Ultimate
Overview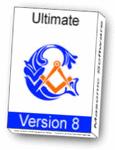 Masonic Software Ultimate contains over 26 Masonic eBooks with over 6,000 pages... 43 Masonic Test with over 1,000 questions, 880 Masonic graphics, 85 Masonic screensavers, 20 Masonic crossword puzzles, Masonic fonts, and much more.
The Ultimate Plus will not leave you wanting for much.... The eBooks were hand picked in order to bring you a very diversified Masonic Library and to compliment most personal Libraries held by Freemasons. The test were developed to increase your knowledge in a short amount of time and to get you interested in Masonic research by introducing you to new and exciting Masonic words and ideas.
Benefits:
Save several hundred dollars over "printed" books
Perfect for the Masonic researcher, or educational officer
Learn more, faster with our Masonic test
Get excited again, about Masonic research
Our Premium Graphics will provide you quality Masonic graphics
A detailed description of the features in the Ultimate listed below
Detailed description of Ultimate features:
eBooks
| eBook Name | eBook Author | Number of Pages |
| --- | --- | --- |
| Bible – Masonic extracts | Author: Many | 284 |
| Duncan's Ritual Complete | Malcom C. Duncan | 295 |
| EA's Handbook | J.S.M. Ward | 25 |
| Encyclopedia of Freemasonry | A.G. Mackey and C.T. McClenachan | 1058 |
| Exposition of Genesis | John Bunyan | 145 |
| FC's Handbook | J.S.M. Ward | 21 |
| Freemasonry and its Etiquette | William Preston and C. Everden | 515 |
| Freemasonry at a Glance | Reynold E. Blight | 66 |
| Freemasonry in The Holy Land | Robert Morris | 592 |
| Higher Degrees | J.S. Ward | 29 |
| History of Freemasonry | Board of (Masonic) Editors | 1088 |
| House of the Forest of Lebanon | John Bunyan | 47 |
| Instruction for the Ignorant | John Bunyan | 32 |
| Lodge Officer Guide | Mickey Ander, PDDGM | 56 |
| Lodge Officer Handbook | Mickey Ander, PDDGM | 74 |
| Masonic Catechism | None | 36 |
| Masonic Forms | Mickey Ander, PDDGM | 19 |
| Meaning of Masonry | W.L. Wilmshurst | 86 |
| MM's Handbook | J.S.M. Ward | 22 |
| Moral Teachings of Freemasonry | J.S.M. Ward | 23 |
| Morals and Dogma of The AASR | Albert Pike | 1090 |
| One Hundred Questions | None | 72 |
| Poetry of Freemasonry | Robert Morris | 414 |
| Regius Manuscript | None | 22 |
| Scriptural Poems | John Bunyan | 65 |
| Solomon's temple spiritualized | John Bunyan | 88 |
Tests
There are over 1000 questions in 43 multiple choice, true/false, and matching tests (no more than 25 questions per test). Our tests include all study and reference material so you do not have to purchase anything extra. Our study and reference material works with you to ensure your success. You don't have to track down which answer go with which question, each question is clearly referenced.
We also provide tests that you can't "guess." Each question will be at a different location each time you take the test, and the correct answer of each test moves location as well. After completing the test, you can perform a "missed question auto-review," print a detailed report on the correct and missed questions, amount of time to completion, percentage correct, and much more.
Types of Questions:
Historical Traditional Biblical, and Philosophical
catechism
EA FC MM
Masonic Knowledge
Premium Graphics
Our premium graphics are a set of graphics that you can color, resize, and change. You are in control and not limited by what someone else thinks you should have. If you want a graphic for correspondence with an odd blue color, you can build it. If you want to use that same graphic on a lodge website, you can do that as well. In addition, you can increase the size of the graphic to use on a t-shirt. We also include an instruction manual and RGB (color) list to help you pick the correct colors for your project.
Our premium graphics will change how you use Masonic graphics. Our testers wanted three things from our graphics: quality, choice and ease of use. That is what we delivered.
Over 310 graphics in four sections:
Blue House - All the graphics of EA, FC, and MM
Square and Compasses - EA, FC, MM, and Past Master
Eastern Star - All the seats of the Eastern Star included
Other Houses - All houses for Scottish and York Rites
Web Graphics
Over 480 Masonic graphics and pictures to use on your website or in correspondence in four categories:
Animation
Blue House
Square and Compassess
Other Houses
Banners
Over 80 banners to use with your website along with instructions explaining how to build banners for your website.
Masonic Screensavers
Over 85 quality Masonic Screensavers in four sections:
Master Mason
OES
Scottish Rite
York Rite
Masonic Fonts
Two Masonic Fonts:
Masonic graphic font
Masonic writing font

Word Search Puzzles
20 word puzzles with solutions:
Over 480 Masonic words and terms used
Words and terms can be found in the Masonic Encyclopedia
This is a fun way to increase your Masonic knowledge
3rd party software
Adobe Acrobat Reader to read your eBooks
Paint.net to work with graphics
Computer Requirements
Microsoft Windows 2000, XP, Vista, 7, 8, or 10
CD drive to install the software
Computer monitor with at least 256 colors and at least 800 x 600 resolution
At least 2 GB of free hard drive space
Top