Masonic Board Game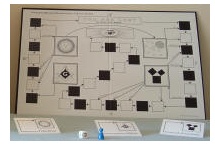 Masonic Board Game is an excellent Masonic educational tool. Developed specifically for the Blue House, the Masonic Board Game is a fun and exciting way to learn or teach about Freemasonry.
The board game is made of quality materials, all cards feel firm and the board is very solid.
Masonic Board Game uses:
Further your Masonic knowledge
Raise interest for all Brothers to Masonic study
"Game board night" at your house or lodge
Masonic knowledge "competitions"
Use the Game Board as a "decorative" item
Great raffle item, promotional or other special lodge event
Detailed description of Masonic Board Game features:
Masonic Board Game Size (inches):
20 x 14 (fold board game for storage: 10 x 14)
The Masonic Board Game is a very nice size for a game board.
Masonic Board Game Contains
One Die
Four Game Pieces
One Game Board
400 Game question Cards (with 1000 questions)
Instructions for play with 2 to 4 players or groups (group play is a lot of fun!!!)
Over 1000 Masonic questions and answers
Game Box and cards wrapped in plastic from the factory
Pictures of the board, die, game piece, cards, and box
(click on image to see a larger, more detailed image - will open a new window)