Tracing Board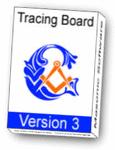 The Masonic Tracing Board is the best tool to move your lodge into the digital presentation of Tracing Boards. The Tracing Board includes the Tracing Boards for EA, FC, and MM. In addition, it provides a breakdown of each section. This provides you with multiple ways to teach your students.
We also provide all the material need to build the text with the slide or written explanation to the student. You can add or remove material while working with your slides since our Four of our eBooks are built to work with Microsoft Word (.doc), so. The Manual of the Lodge is an excellent reference material (almost 300 pages of reference material).
The document you will work out of most is the Reflected Rays of Masonic Light. Reflected Rays of Masonic Light was built exactly to work with Tracing Boards. It provides a detailed explanation of each degree along with detailed explanations of the tools, list of Masonic calendars, etc.
Benefits:
Save time when training EA, FC and MMs
Can install on laptop to take the lecture with you
Get your candidates excited about Freemasonry
Add or remove material from the slides easily
Detailed description of Tracing Board features:
eBooks
| eBook Name | eBook Author | Number of Pages |
| --- | --- | --- |
| Reflected Rays of Masonic Light (.doc) | Brothers W. Garvey and J. Stevenson | 33 |
| EA ritual (.doc) | None | 39 |
| FC ritual (.doc) | None | 39 |
| MM ritual (.doc) | None | 50 |
| Manual of the Lodge (.pdf) | Albert G. Mackey, M.D. | 273 |
Slides
115 Microsoft PowerPoint slides in three categories:
Tracing Boards - 12 Slides (6 Black and 6 Blue)
EA, FC, and MM - Sections 40 Slides (20 Black and 20 Blue)
EA, FC, and MM - Color Sections 63 Slides (color)
3rd party software
Adobe Acrobat Reader to read your eBooks
Computer Requirements
Microsoft Word and PowerPoint or equivalent product (i.e. WordPerfect or Open Office)
Microsoft Windows 2000, XP, or Vista, 7, 8, or 10
CD or DVD drive to install the software
Computer monitor with at least 256 colors and at least 800 x 600 resolution
At least 85 MB of free hard drive space